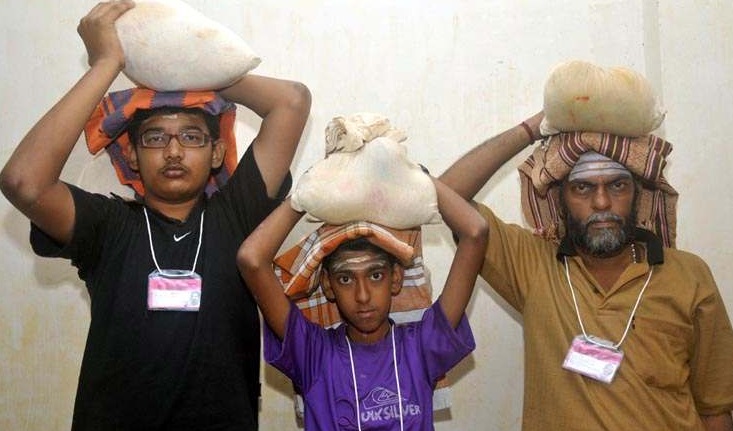 The Kanni Ayyappans from Travancore  has arrived with the ghee filled coconuts to Sabarimala. This is a part of the ritual associated with Makaravilakku festival. They stuck the arrow ritual conducted at Saramkuthy on 12th morning at 5. Ramanthan, the representative of the Travancore Maharaja has accompanied the two Kanni Ayyappans to Sabarimala. This is the 25th year that he is accompanying the Kanni Ayyappans for the ritual.
After ascending the Holy steps and darsan, the team went and met Tantri to inform their arrival. It is believed that the Bimbasudhikriya will only start once the team arrives at Sabarimala. Ganapathi and Sreerag are the two Kanni Ayyappans have chosen for the ritual this time. Travancore Maharaja, Uthradam Thirunal Marthanda Varma did the ghee filling ritual for them at the Navarathri  Mandapam at Trivandrum on 11th morning 8.30. Coconuts have been filled symbolizing the eight members of Travancore kingdom.
Three coconuts have filled with ghee at Pattom palace on the same day and Ramanathan also filled three coconuts on the same day as part of the ritual. The two Ayyappans have thus brought a total of 14 ghee filled coconuts to here.  These 14 coconuts will be brought to the Sanctum Sanctorum by Tantri on January 15 early morning  12.59 before MakaraSankarama time.
This will be used for the Neyyabhishekam during the  Makarasankrama time and will distribute among the devotees as offering after that. The team will descend the holy hills after having the Makaravilakku darsan and with the offering on 16th.