Sabarimala Ayyappa temple closed after two-month pilgrimage season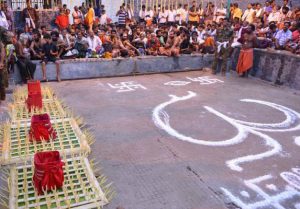 Guruti performs exclusive darshan for royal representative
The two-month Mandalam-Makaravilakku pilgrimage at Sabarimala ended with a Guruti at the Malikappuram Devi temple on Sunday evening.
Even on the last day, hundreds of pilgrims visited the temple. Vilakkinezhunellippu, a five-day ceremonial procession from the Malikappuram Devi temple, had come to a close on Saturday evening.
Tantri (chief priest) Kandararu Maheswararu, assisted by Melsanthi (head priest) P.N. Narayanan Namboodiri, performed Padipuja after Pushpabhishekom at the Ayyappa temple in the last evening. Ashtabhishekom and Udayasthamanapuja were the other important rituals performed during the day. The temple was closed after Athazhapuja.
Guruti
Guruti to propitiate the cohorts (Bhoothagana) of the presiding deity was performed on the Malikappuram temple premises after closing all the temples later. Ajithkumar and Ratheshkumar of the Kunnackattu Kurup family in Ranni performed it. Hundreds of devotees attended the ritual, supervised by the representative of the Pandalam Palace, Dileep Varma, and Travancore Devaswom Board officials.
The head priest will open the sanctum sanctorum at 6.45 a.m. on Monday to allow the royal representative the customary exclusive darshan. The temple will be closed by 7 a.m. and the royal representative will take the Thiruvabharanam back in procession.
The procession will halt at Laha Sathram on Monday evening and at the Sastha temple at Perinad on Tuesday.
The presiding deity at the Perinad temple will be adorned with the sacred jewellery prior to Utchapuja on Tuesday evening.
The procession will halt at Aranmula on Wednesday night and will return to Pandalam on Thursday morning.
Centre closed
The Information and Public Relations Department closed its media information centre at Sabarimala on Sunday evening.
Sabarimala pilgrim season ends with `Guruti' at Malikappuram