Golden Earrings for donkeys
Donkeys used to transport goods from Pampa to uphill Sabarimala will be fitted with a "Golden Ring".
From this year onwards, only medically-examined donkeys are allowed to be used in Sabarimala and, each one successfully undergoing the medical examination and vaccination will be fitted with a golden collar on its ear, a health official said.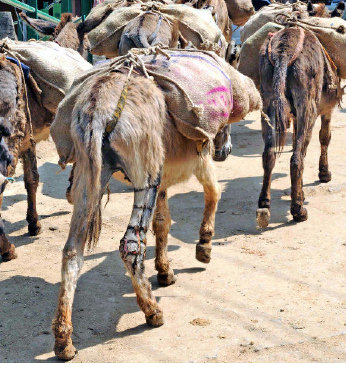 "The step is being done to ensure they don't fall ill after reaching here and then abandoned by owners. Donkeys are also hosts to myriad infectious and parasitic agents. They are subjected to medical test at the border itself. It is being strictly observed this year," he added.
This season, about 350 donkeys were brought to Pampa from Kambam in Tamil Nadu to transport jaggery to Sabarimala. They were examined by veterinary doctors at the border only after which the forest department allowed their shipment to the state.