Kerala resents surchage at shrine"s railway ticket counter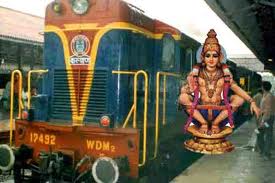 Thiruvananthapuram, Nov 27 (PTI) Kerala today resented realisation of 10 per cent surcharge from pilgrims taking train tickets from the special counter opened for Sabarimala pilgrims at the base camp of Pampa.
In a fax message to Union Minister of State for Railways, E Ahamed, Kerala"s Public Works Minister M Vijayakumar said there was no justification for imposing such a surcharge on the pilgrims since the ticket counter was set up at a space provided free-of-rent by the Travancore Devaswom Board.
The TDB manages the hill shrine of Lord Ayappa.