Sabarimala pilgrimage 2014-2015 starts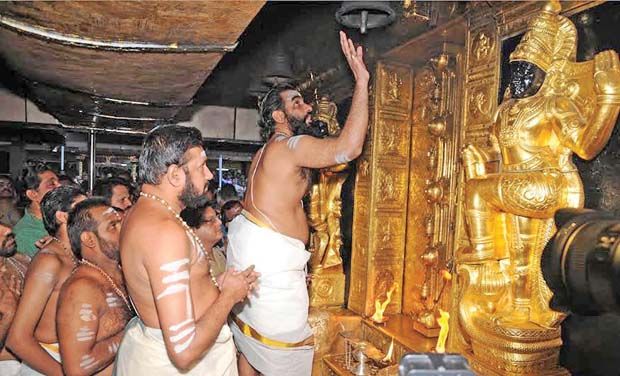 Sabarimala temple' s Mandala-Makaravilakku pilgrimage season started with the outgoing Melsanthi (chief priest) P.N Narayanan Namboothiri opening the sanctum sanctorum at 5.30 pm on Sunday.
This was followed by the ceremonial installation of the new Melsanthi Ezhikkad Krishnan Namboodiri and the new Malikappuram Melsanthi Keshavan Namboodiri, who lead the proceedings thereafter.
By around 6pm, parking at Pampa was full and long queues of pilgrims started pouring in from Sharamkuthi. Several free-food and water serving stalls have been opened for devotees.
During the season, the temple will be kept open for a total of 16.5 hours every day and the timings may be altered on peak days. The temple will open at 4 am and close after Uchapooja at 1.30 pm. It will then open at 4 pm to close after Athazhapooja at 11 pm.
The Mandala Pooja, marking the culmination of the 41-day Mandalam pilgrimage, will be held on 27th December and the temple will remain closed for the next two days and will open again at 5.30 pm on 30th December. The Makarvilakku falls on January 14 and the Makarajyoti darshan will be on the same evening.