Sabarimala temple opened for pilgrims- Pilgrimage Season 2013-14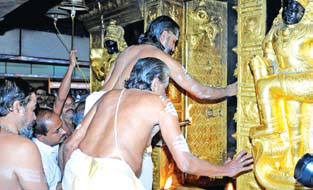 The hill shrine of Lord Ayyappa was opened on Friday evening for the two-month long pilgrimage season
The hill shrine of Lord Ayyappa was opened on Friday evening for the two-month long pilgrimage season, with thousands waiting in queue for long hours to have a glimpse of the deity. Melsanthi Damodaran Potti opened the sreekovil of the temple in the presence of Thanthri Kandararu Maheswararu at 5.30 pm in an atmosphere charged with devotion.
The Melsanthi lit the sacred fireplace with the fire brought from the sanctum sanctorum.
Travancore Devaswom Board member Subhash Vasu, Devaswom Commissioner P Venugopal, Special Commissioner K Babu and Sabarimala Devaswom Executive officer Mohandas were present. The flyover at sopanam and the queue path at Valiya Nada Pandal at sannidhanam were jampacked with pilgrims even hours before the sreekovil was opened.
Heralding the beginning of the Malayalam month of Vrischikam which falls on Saturday new melsanthi P M Narayanan Nampoothiri will open the sreekovil at 4 am that kickstarts the 41-day-long mandala pooja season.