Tight Security in Sabarimala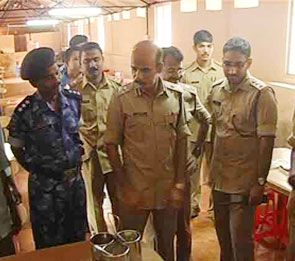 Tight security arrangements have been set up in Sabarimala for the first phase of the pilgrim season. IG A Hemachandran assessed the elaborate security arrangements in the Ayyappa temple for this mandala season. Security cameras have been installed in about 20 sensitive forest areas.
C. Rajagopal, Police Special Officer at the Sannidhanam, said 600 police constables, 12 Deputy Superintendents, 23 Circle Inspectors and 56 Sub-Inspectors were deployed at Sannidhanam. This was in addition to the 300-strong National Disaster Response Force and Rapid Action Force personnel attached to CRPF present at the Sannidhanam.
Specially trained commandos, Bomb Detection and Disposal Squads, Quick Action Team and Special Intelligence teams have been deployed at the Sannidhanam. He said specially trained police personnel were posted at the holy 18-steps (Pathinettampady).The police have made elaborate crowd-control arrangements at Sabarimala Sannidhanam in view of heavy rush of pilgrims.
The crowd management system in front of the Nayyabhishekom counter has been revamped and police patrolling has been intensified in the surrounding forest areas. Rahul R. Nair, Assistant Police Special Officer, and P.K. Madhu, Deputy Superintendent in charge of the Task Force, were present at the press meet.